40ft long office conversions ready for your business to move in.
The perfect solution for businesses looking for extra-large office space.
---
The 40ft high cube office unit offers spacious and flexible interior space for businesses or individuals looking for additional office premises. Converted from a 40ft once used shipping container, one personnel steel is and three anti-vandal shutter windows are installed on the outside, allowing plenty of natural ventilation and lighting from the exterior.
The interior walls are insulated and lined using 3mm vinyl "Wilkins White" and the floor is covered with non-slip vinyl. This conversion also features a UK certified electrical installation fitted throughout with an external 220-240V single-phase inlet and an internal distribution board, four ceiling battens for illumination, two switched sockets and two wall-mounted convector heaters.
There is plenty of interior space to set up multiple working stations.
---
1x Steel Single Personnel Door

2x Double sockets

Black Non-Slip Vinyl Flooring

Wilkins White Wall Insulation

3x Double Glazed Window

2x Wall Mounted Heater

4x LED ceiling lights

Available in Gentian Blue (RAL 5010), Cobalt Blue (RAL 5013) or Bottle Green (RAL 6007)

Bespoke Colours Also Available
---
CAD Drawings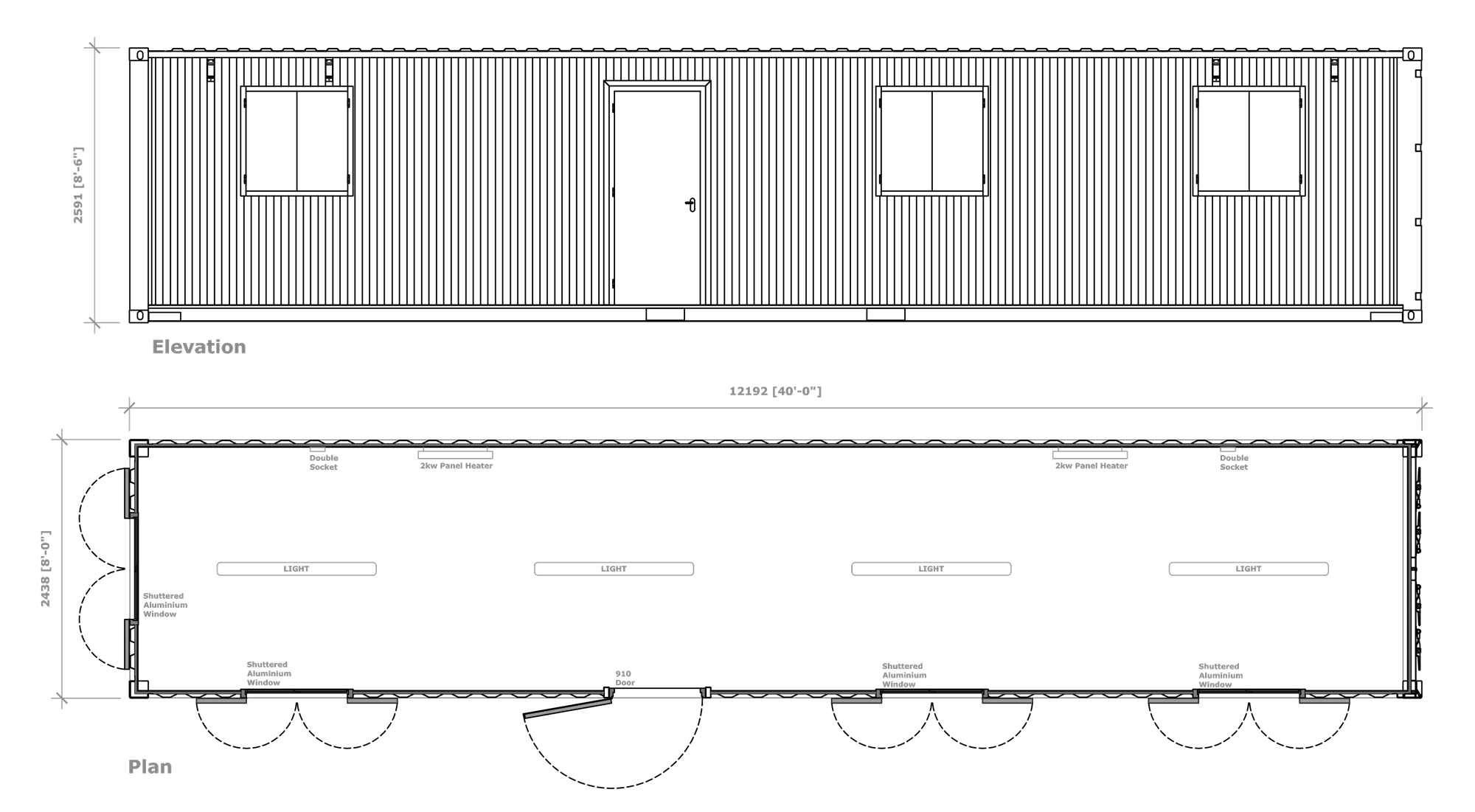 Gallery
*Please note: All drawings are for representation purposes, Pentalver reserves the right to modify these designs at any time. Do not dimension from this drawing, use figured dimensions only. All measurements in millimetres. Reproduction is not permitted without authorisation.
Follow any of the links below to find out more about our other standard converted shipping containers: